Music Review: Hommage à Eberhard Weber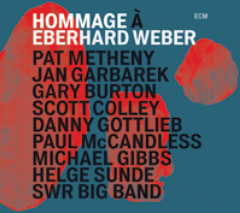 Hommage à Eberhard Weber
with Pat Metheny, Jan Garbarek, Gary Burton, and the SWR Big Band
ECM
Although Jazz musician Eberhard Weber had a stroke in 2007 that's made it impossible for him to continue performing, the rich textures of his inventive bass lines were heard again earlier this year during celebrations of his 75th birthday. Hommage à Eberhard Weber is the masterfully recorded and mixed album taken from two evenings of concerts at Germany's Theaterhaus Stuttgart in January 2015. The CD includes performances by modern jazz greats including guitarist Pat Metheny, saxophonist Jan Garbarek, and vibraphonist Gary Burton.
"Résumé Variations" is the opening track, with Norwegian saxophonist Jan Garbarek playing stunning and uplifting improvisations along to haunting tape recordings of Eberhard on bass. (Garbarek's distinct melodic style can be heard on dozens of albums, including 1969's Esoteric Circle and 1992's Ragas & Sagas.) Also performing here are Scott Colley (double bass), Danny Gottlieb (drums) and Paul McCandless (oboe & soprano saxophone).
The diversity of Weber's music is well represented on Hommage à Eberhard Weber, with pieces that range from sensitive solos to passages by the powerful horn section of the SWR Big Band. The band has received four Grammy nominations and is conducted here by Helge Sunde and Michael Gibbs.
Hommage à Eberhard Weber is a unique musical treat that includes inventive and surprising rhythmic twists as well as remarkable moments in subtle and provocative solo sections. The title track, "Hommage," was composed by Pat Metheny and is based on improvisations by Weber. In the album liner notes Metheny heralds Weber as "the personification of an individual who had a visionary sense of what music could be, totally of his own design."
---
Similar articles with the same tag: