Music Review: Tales from the Realm of the Queen of Pentacles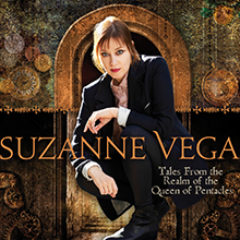 Tales from the Realm of the
Queen of Pentacles
Suzanne Vega
Amanuensis Productions
Fans of Suzanne Vega can stop wondering when she'll produce another album of thoughtful, understated, and catchy music. After seven years, the wait is over, and though the album's title is a little unruly, the 10 tracks on Tales from the Realm of the Queen of Pentacles are perfectly Vega, combining clever aphorisms in songs like "Don't Uncork What You Can't Contain" with soulful prayers in the song "Silver Bridge"—"My heart is full today for the recently departed."
Tales from the Realm of the Queen of Pentacles has beautifully constructed gems, with sweet hints of electronic and hip-hop magic. Once again Vega is supported by a very tight and creative rhythm section that flows and builds on her poetic style, including Doug Yowell on drums and Mike Visceglia playing bass.
The song "Portrait of the Knight of Wands" comes across like an Ursula K. Le Guin science fiction fantasy, offering a cosmic take on the transmission of technology to human beings. "Laying On of Hands" is about Mother Teresa and the power of human touch: "What I often wonder is how she kept from hearing love's demands. . . . Touch is a language
. . . . What is it you have to say to me?"
The album has a cool minimalism that opens up into a rock and roll sound, always framing Vega's crisp poetry in the foreground. We hope it's not another seven-year stretch before Suzanne Vega records a new album. In the meantime, she's hit the road for a world tour; check out the schedule at suzannevega.com.