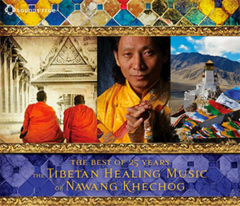 The Tibetan Healing Music of Nawang Khechog
Artist: Nawang Khechog; Produced by: Sounds True
Nawang Khechog was born in the Kham region of the Tibetan Plateau, where his family lived as nomads. This extraordinary flute player was a monk for 11 years and, under the guidance of the Dalai Lama, lived as a hermit for several years in the foothills of the Himalayas.
Khechog dedicates this compilation of songs from 10 of his albums—plus a few previously unreleased tracks—to "a kinder humanity" as well as to a handful of teachers who have become leaders in compassion, such as Archbishop Desmond Tutu. "I sincerely believe that if human beings could be kinder to one other, we would all be happier," writes Khechog in the liner notes.
One of the three newly released tracks, "Kindness Phrase," features a background canvas of tabla (Ty Burhoe) and calming synthesizer (Deborah Schmit-Lobis), upon which Khechog glides his flutes and repeats the phrase, "May all be kind to each other."
Khechog also calls attention to the suffering of Tibetan nomads, whose forcible resettlement by the Chinese government began in 1998 (see nomadrights.org). Two million people—one-third of Tibet's population—have been forced to move into urban areas. In the liner notes, Khechog explains the essence of what he's learned on his musical journey since being born in Tibet: "We must try our best not to hurt each other, and we must try our best to serve and be helpful to each other."