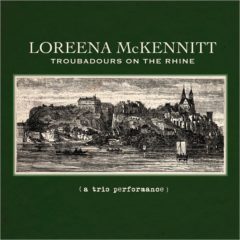 Loreena McKennitt
Quinlan Road Limited
Gently opening my eyes while listening to Loreena McKennitt's silk-smooth voice, I expect to find myself sitting on an Irish hillside overlooking the Cliffs of Moher, gray rocks jutting up from a rough and sparkling sea. Yet McKennitt was born in Canada.
Her clear, pure vocals are in full supply on her latest CD, Troubadours on the Rhine. It's a mix of traditional Celtic and Irish tunes, and her own originals. Songs like "Bonny Portmore" have been arranged and adapted by McKennitt and fit seamlessly with her own compositions, like "Penelope's Song." A few of these enchanting songs are based on poems, including "The Stolen Child," by W. B. Yeats.
"The Wind That Shakes the Barley" is a haunting tune that literally makes the hair on my neck stand on end. Written by Robert Dwyer Joyce, who died in 1883, the song conveys the tribulations of a young Irishman who leaves his love to join the rebellion of 1798.
The emotional impact of this album is well supported by McKennitt's harp and piano, the cello accents of Caroline Lavelle, and the magnificently gritty and biting guitar synthesizer of Brian Hughes. Troubadours on the Rhine was recorded before a live audience in Germany's SWR studios and the heartfelt applause at the end of each song adds an authenticity and aliveness to the album.