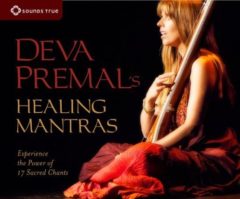 Mantras for Precarious Times; Tibetan Mantras for Turbulent Times (2-disc set)
Deva Premal
Prabhu Music
When Deva Premal was born in 1970, conditions were auspiciously in sync to contribute to her unfolding as a talented vocalist of spiritual and healing music. Born in Germany and raised by musical parents who also embraced spiritual practices, Premal was reciting the Gayatri Mantra daily by the time she was five years old. Along with classical training in violin, voice, and piano, she was on her way, with mantras remaining at the core of her music. Her spiritual name was given to her by controversial Indian guru Osho; Deva Premal is Sanskrit for "divine loving." Her debut album, The Essence, was released in 1998.
Healing Mantras is a double CD of 14 mantras from India and Tibet, with Deva Premal and the Gyuto monks of Tibet combining forces. Presented here are powerful and potent mantras, including those for compassion, purification, and perfection, such as Teyata Gate Gate Paragate Parasamgate Bodhi Soha. Musical support comes from David Darling on cello, Kit Walker on keyboards, and the Nepalese bansuri maestro Manose.
Deva Premal often records and performs with Miten, a self-described "spiritually incorrect mystic" who toured for years with rock artists like Fleetwood Mac and Lou Reed. She and Miten met in 1990 and fell in love at the Osho ashram in India. If you're interested in catching them live, their tour schedule for 2013 is online (devapremalmiten.com) and includes cities from Moscow and Berlin to New York City and Santa Cruz, California.