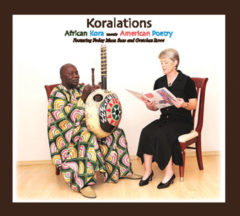 Foday Musa Suso and Gretchen Rowe
SUSO MUSIC
KORALATIONS IS A MEETING of two musical storytellers from distant continents. Foday Musa Suso grew up in Gambia, Africa, in a family of Malinke musicians. Gretchen Rowe is an American artist, poet, and teacher. The two came together in Seattle and have co-created a moving album that weaves together ancient African songs with poignant modern spoken word. ("Only if I know you can bare your own truths/will I feel safe enough to speak wholly to you … ")
Rowe's calm voice invites us to deeply explore our inner world and the world around us, with Suso's music firmly grounding the prose. The words appear as colorful leaves floating down a stream, with Suso's kora (African harp) acting as the gentle waterway.
With a sense of humility, Rowe offers valuable insight and wisdom regarding parenting, difficult emotions, and the search for peace in a modern society that's become an "overpopulated playground." The words and music of Koralations emphasize the importance of connecting with our own body and mind. ("Listen to your belly telling you to look in the mirror of yourself.")
Suso's music and vocals resound with an ancient depth. He grew up in a family of griots—African storyteller musicians—who have passed ideas, parables, and histories from generation to generation with music and words. He's also a direct descendant of the musician who invented the kora four centuries ago.
If Koralations is your initiation to Foday Musa Suso, you've got some catching up to do; when Suso moved to the U.S. in 1977, he formed a fusion band called Mandingo Griot Society, and since then he's collaborated with Philip Glass, Jack DeJohnette, Kronos Quartet, and Paul Simon, to name just a few.