The Passion of Ramakrishna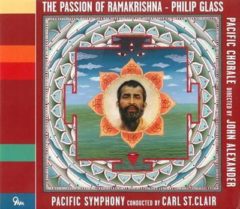 Philip Glass
ORANGE MOUNTAIN MUSIC
"It would be hard to overestimate the impact that the life, presence, and teaching of Sri Ramakrishna had on the formation of the modern India we know today," writes composer Philip Glass in the album liner notes for The Passion of Ramakrishna, which premiered in 2006 and was released recently on CD.
The symphonic/choral piece is a 45-minute tribute to the Indian spiritual leader Ramakrishna, with solo singers and a chorus of more than 100 voices. The story line chronicles the last days of the nineteenth-century guru, with soloists singing the words of his disciples, doctor, and friends and the chorus expressing the words of Ramakrishna himself: "I saw everything passing from form to formlessness/I want to tell you the things I saw but cannot/This tendency toward the formless is a sign of my approaching dissolution."
As with earlier compositions by Glass, like Symphony No. 5 (2000) and Satyagraha (1980), The Passion of Ramakrishna brings a sharp focus on spiritual and wisdom teachings and people who've shined with the light of compassion. The music of Ramakrishna supports the deeply personal text with a swift, pulsing tempo and polyrhythmic complexity that are Glass's signature style. He's included some unique vibrato violin and tablalike timpani that subtly refer to the continent where Ramakrishna had such a profound impact. The Pacific Chorale was directed by John Alexander and the Symphony conducted by Carl St. Clair, who also commissioned the work.