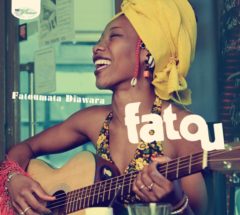 Fatoumata Diawara
World Circuit/Nonesuch
Africa is the birthplace of some of the sweetest rhythms and melodies on earth. These elements are delivered as a gift to the world on Fatou, the debut album from Fatoumata Diawara. Born in the Ivory Coast to Malian parents, Diawara combines traditional African rhythms and instruments with her own sweet, confident singing. Fatou was recorded in London and Paris and is jazzy, funky, and wonderfully influenced by her ancestral Wassoulou tradition. Diawara also plays rhythm guitar and percussion and is supported by an amazing group of musicians including Toumani Diabate on kora (African harp) and Guimba Kouyate on ngoni (a likely ancestor instrument to the banjo). John Paul Jones, Led Zeppelin's legendary bassist, makes a special appearance on one tune.
The video for her song "Bissa" shows Diawara in Mali and in her current home, Paris. Diawara acted and danced in theater and film before becoming a backup vocalist for acclaimed Malian singer Oumou Sangare. The song "Makoun Oumou" is dedicated to Diawara's mentor.
The songs on Fatou are sung in the Bambara language and delve into personal and social questions like female circumcision, arranged marriages, and Diawara's own painful experience with the practice of children being raised away from their parents: "Who has been raised by other people / my brothers, my sisters, and myself … " The prominent instrument here is Diawara's rich voice, which rolls and glides over bouncing bass lines and African six-beat phrases; prepare to dance!