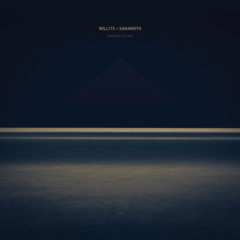 Ryuichi Sakamoto and Christopher Willits
Ghostly International
Ryuichi Sakamoto is such a creative soul that it's not easy to pin a label on him. His biography includes composing and performing, acting and environmental activism. In the 1970s, this Japanese artist played with the pioneering electronic band Yellow Magic Orchestra. He's also composed more than 20 film scores, including those for Little Buddha (1993) and The Sheltering Sky (1990). His music has received an Academy Award, two Golden Globes, and a Grammy.
Ancient Future is Sakamoto's second collaboration with Christopher Willits, a San Francisco–based multimedia artist and musician. Willits has created software to "paint with guitar," producing lush washes of sound. Ancient Future is an ambient, textured journey of piano, guitar, and electronica that rises and falls like ocean waves, moving in and out of relaxing to dangerous moods, fluxing between tranquillity and tension.
The landscapes of Ancient Future that move from dissonance to balance seem fit for a world that offers beauty and tragedy each day. Undoubtedly the music was influenced by Sakamoto's commitment to environmental and social issues; lately he's developed reforestation projects and organized aid for victims of the Fukushima tsunami and nuclear meltdown. He also produced a 2012 no-nukes music festival in Japan.
---
Similar articles with the same tag: