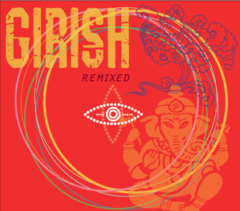 Opening the CD case for Girish's Remixed, one discovers a poem by the great Sufi mystic Rumi: "After one moment with that glorious friend you became loving, radiant, and ecstatic. Your eyes were sweet and full of fire. Come, return to the root of the root of your soul." The album is a celebration of the ecstatic kirtan-influenced sound of California-based singer and multi-instrumentalist Girish.
Each of the nine tracks featured on Remixed is creative and new yet stays true to the root of the root of Girish; soulful, sensual, devotional Sanskrit music for the modern era. Among the remixed songs are Girish's most memorable, including "All Good," "Shiva Shambho," and perhaps my favorite, "Gayatri," a sweet Hindu mantra.
Nine different producers have reimagined Girish's songs by overlaying their favored musical sensibilities, including reggae, dubstep, dance, and electronic music. "Ganapati"—Elephunk remix by Rara Avis—is moved by a heavy bass line, while the "ethno remix" of "Shiva Shambho" by Shujat Ali Khan is built on a rhythmic pulsation reminiscent of contemporary classical composer Steve Reich. DJ Drez's remix of "Kali Durga" is the most unusual, with a simple offbeat reggae flavor that works nicely with the extended, smooth vocals of Girish and his accompanying female vocalist. Now the only question is: when will Girish gift us with a new album from the root of the root of his soul?