Matisyahu: "Spark Seeker"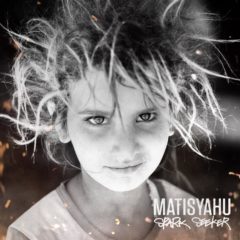 A young girl with frizzy dreadlock-style hair looks into the camera with a half-smile, dark eyes wiser than her years. Matisyahu chose this image for the cover of his latest, fourth studio album, Spark Seeker. "The girl on the cover represents some aspect of identity," he says. "The girl we took the snapshot of is a Bedouin. She represents not having any place, of being out in the desert on a mission, traveling through this world. She offers the perspective of the mystic. She's looking for the spark."
God, love, authenticity, the Kaballah, and the coming of Moshiach (the Jewish messiah) are common themes for this Hasidic Jew-reggae-rap-rocker whose new album climbed to number one on the Billboard reggae chart.
In his early 20s, Matisyahu, born Matthew Miller in 1979, embraced Hasidic Judaism in a deep way and began wearing clothing and a beard that led some fans to identify him as the Reggae Rabbi. Matisyahu recently faced an inner struggle when he realized he was confining himself to an outer appearance that no longer resonated; last December, he shaved off his beard and cut his hair. Short.
Matisyahu's choice to adopt a Hasidic look—and now let go of it—is very personal and layered. "When I started out, it was very much a creative thing. It was self-expression through my Jewish identity. At a certain point, though, it became less of a choice and something like a rule I had to follow." He describes a 10-year struggle to rediscover himself and make new choices, reflecting the human struggle to live in integrity. Now Matisyahu has chosen freedom. "This past year was the final thing for me. Cutting my hair is definitely a new stage. It was a release," he says.