"Election Special" by Ry Cooder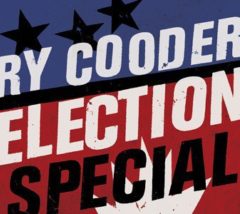 And now a special message from Ry Cooder: welcome to the reality of money, corruption, and lies! Some call it politics, but for Cooder it's just the here and now. His new album Election Special is a timely set of darts aimed at international corporate oligarchy, U.S. militarism, gun culture, and the prison-industrial complex. All with a great sense of humor and the impeccable rhythm-and-blues guitar that Cooder's perfected for three decades.
Election Special includes a song created to celebrate the Occupy movement, "The Wall Street Part of Town." Another tune aptly titled "Kool Aid" warns against believing without thinking. "Mutt Romney Blues" is written from the point of view of the Republican presidential candidate's pet dog Seamus, who was transported on top of the car—"on the roof like a cotton sack"—when his family went on vacation.
Kudos to Cooder for singing about some elephants in the political landscape, including the Guantánamo prison. With a catchy guitar riff, the song invokes a part of America that is causing suffering and then punishing whistle-blowers who reveal the truth.
Cooder reminds us that "Buddha and Jesus / laid it on the line / but we took a wrong turn / with a bigot mind . . . " Cooder asks finally, "Guantánamo—what would Jesus say?"
Cooder writes in a press release, "There's a beautiful Cuban song about a country girl from Guantánamo. The lyrics were written over a hundred years ago, and they say something about peace and freedom, so I guess the problem hasn't been solved yet. Prisons are the new growth industry." Don't forget this is the same Ry Cooder who recorded the drifty, captivating soundtrack to Paris, Texas and assembled and recorded Cuban jazz legends for Buena Vista Social Club, the best selling "world music" album ever.