"Different Colours" by Marconi Union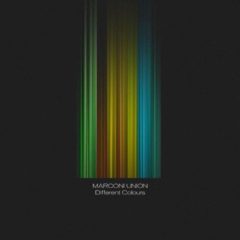 "The world's most relaxing song"—that's how Time magazine (November 28, 2011) described "Weightless" by Marconi Union in an article highlighting 50 of the best new inventions. (Also making the list were a malaria vaccine and something called "the possessed hand," a nerve-stimulating device that allows someone without musical training to play the guitar.)
The ultra-relaxing status of the eight-minute song was determined in scientific studies conducted by Mindlab International, a company that sells cutting-edge technology to "improve sales and enhance branding efficiency." The technology seems to have worked for Marconi Union, which received
a good deal of publicity including media stories repeating the warning that "Weightless" is so relaxing that people shouldn't listen while driving!
Different Colours is the sixth album from Marconi Union, a group founded in England in 2002 by Richard Talbot and Jamie Crossley, with Duncan Meadows making the group a trio in 2010. Different Colours is like an audio postcard from a universe where each day has 48 hours and multitasking hasn't been invented. Here are seven songs that feel like smooth silk touching skin, or a caress of cool air on a warm day. Relax!