"Anastasis" by Dead Can Dance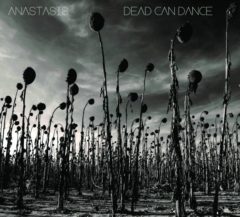 Rebirth. That's how fans worldwide of Dead Can Dance must be describing the release of DCD's first album in 16 years, Anastasis. Indeed, "anastasis" is the Greek word for "resurrection," an appropriate album title for the duo—Lisa Gerrard and Brendan Perry—who have reunited after going separate ways in 1996.
Gerrard and Perry formed Dead Can Dance in Melbourne, Australia, 30 years ago, and they released seven studio albums and one live album. The two have also recorded numerous solo albums. Dead Can Dance can be heard on the soundtrack of a number of films, including the visually powerful social commentary film Baraka (inspired by the Koyaanisqatsi film trilogy).
Anastasis was recorded at Ireland's Quivy Studios, an ancient church with colorful stained-glass windows upgraded to accommodate a modern recording studio. Inside the stone building, the duo recorded an exquisite audio journey that's classic Dead Can Dance, with rich vocals, sweeping strings, and exotic instruments. Perry's deep, resonating vocals are present as well as Gerrard's famous "glossolalia," the word she uses to describe her flowing singing style of self-created words/tones, reminiscent of Cocteau Twins singer Elizabeth Fraser.
An array of exotic yet relaxed percussion accompanies strong melodies on Anastasis, including instruments from North African, Turkish, and Celtic traditions. "Opium" is based on a Moroccan Sufi 6/8 rhythm that has a way of magically captivating one's attention. "Anabasis" features the modern, metal Hang drum. Overall, Anastasis exudes an ancient power; the songs feel designed for mystical rituals. "We are ancient / as ancient as the sun… " sings Perry.