"All Fall Down" by Shawn Colvin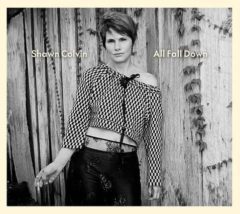 Back in 1987 Shawn Colvin was a backup singer for Suzanne Vega. Look at her now! All Fall Down is Colvin's eighth studio album, and her memoir has just been published by William Morrow. The title of the book, Diamond in the Rough, could refer to the captivating song of that title from Colvin's Grammy Award–winning 1989 album, Steady On, and equally to her own personal and spiritual growth. Now 56, Colvin has grappled with depression and alcoholism and currently lives in Austin, Texas, with her 13-year-old daughter.
As usual, Colvin has set melancholy and witty words of love and loss to gentle, lyrical rhythms anchored in a country-western feel. All Fall Down is a collection of 11 songs, mostly written or cowritten by Colvin in collaboration with Patty Griffin, Kenny White, and longtime collaborator John Leventhal, among others. Guest performers include Alison Krauss, Emmylou Harris, and Bill Frisell. The title song, "All Fall Down," honors the human capacity to learn from mistakes and get back up after falling.
Three cover songs are added to the mix, including Rod McDonald's "American Jerusalem," which deals with economic disparity and pays homage to Colvin's early music career; it's a song she often performed at the Cottonwood Café in Greenwich Village in the early '80s. More than 30 years ago her friend Buddy Miller encouraged Colvin to move to New York City to sing in his band. Now coming full circle, All Fall Down was produced by Miller, a first for the two.
In a promotional video for Diamond in the Rough, Colvin confides, "My life now is healthy and happy." She is currently touring, doing book readings and shows.
---
Similar articles with the same tag: