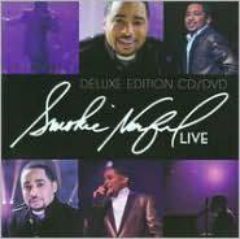 EMI Gospel
W. R. "Smokie" Norful, Jr., began picking out melodies on the piano at the age of two and — surprisingly, for the son of a minister of the African Methodist Episcopal tradition — was allowed to hear and experiment with R&B and soul music as well as gospel. Feeling a call to the ministry himself, Norful left his high-school teaching post to earn a M. Div. from Garrett-Evangelical Theological Seminary in Illinois and founded and currently pastors Victory Cathedral Worship Center in Romeoville, Illinois.
Norful won a Grammy in 2005 for Best Contemporary Soul Gospel Album, along with representation by EMI-CMG Publishing; he also has established his own publishing company, Norful Music Publishing. His music can be described as a fusion of gospel, '70s soul, and contemporary R&B. In an interview with blackgospel.com, Norful said that his music was the best way for him to communicate his message of hope in Christ. "The most valuable talent is to be a songwriter," he said, "because that will not only bless my generation but generations to come. My music will continue to live long after I'm gone. Every time I hit the stage, I want to communicate life."
Norful's voice is smooth, silky, and sincere, as he sings his beliefs with soul-stirring conviction. Recorded in a 2,100-seat theater in Memphis, with all the interactive elements of a church service and the support of skilled musicians and backup singers, this release will make gospel lovers feel right at home; for those unfamiliar with the black gospel idiom, it's a good introduction to what it's all about.