Music for Cello and Piano by Women Composers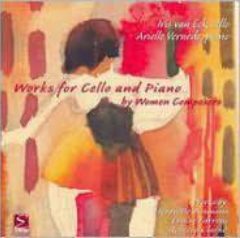 Iris van Eck, cello; Arielle Vernède, piano
Eroica
This 2006 album appears to be the only available recording of these stunning works for cello and piano by Henriette Bosmans, Louise Farrenc, and Rebecca Clarke, and it does the works — and its listeners — justice. The playing is at once dynamic and subtle, and though the required virtuosity is not lacking, it never is allowed to overshadow musicianship. The result is playing that is both passionate and intelligent; both in the ensemble and in solo passages, these two musicians shine.
Dutch composer Henriette Bosmans (1895–1952) wrote her Sonata for Cello in 1919, when she was just 24 years old, and it is possible that she wrote it in honor of her father, Henri Bosmans, who had been principal cellist with the Concertgebouw Orchestra and who had died when his daughter was just six months old. Written in late Romantic style, the work is passionate, complex, and technically demanding, and though it starts out in a somewhat playful mood, it soon turns dark and brooding. A cyclic structure in which the beginning theme of the first movement returns at the end of the last gives a satisfying feeling of completion to the intense musical journey. Bosmans' name will be familiar to Dutch musicians; in 1994, the Henriette Bosmans Prize was instituted to recognize talented young Dutch composers Louise Farrenc (Jeanne-Louise Farrenc-Dumont, 1804–1875) was a French contemporary of Germany's Clara Schumann. By the age of 15, Farrenc was at the Paris Conservatoire studying composition with Anton Reicha; she became Professor of Piano in 1842—the only woman in the nineteenth century to hold such a position at that venerable institution. Many well-known musicians of the era were products of her 30-year tenure. Her Sonata no. 1 for Cello and Piano, Op. 46, was written in 1861 and is reminiscent of Felix Mendelssohn's classicism and lightness, with the added appeal of French Romanticism. Melodic and playful, the Sonata is skillfully presented by Van Eck and Vernède, who play with the joyful abandon and conversational give-and-take that the work demands.
Rebecca Clarke (1886–1979) of England was the first female composition student of Sir Charles Stanford at Britain's Royal College of Music. Her Passacaglia on an Old English Tune, written in 1941, is, though less than five minutes long, a masterwork of the passacaglia form and suggests a reverence for the Baroque master J. S. Bach.