The Best of Gospel Superfest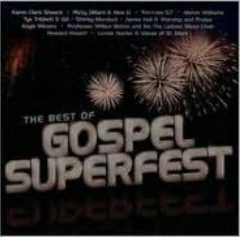 Spirit Rising Music
Lovers of Black gospel music will find much to like in this CD/DVD collection of music from what has become the most anticipated and widely distributed urban gospel TV show in history — and the highest-rated Black gospel TV show in syndication (cumulatively speaking) for four consecutive years. This historic and wide-ranging release includes performances by some of the nation's top gospel performers, including Karen Clark Sheard, Angie Winans, Melvin Williams, Shirley Murdock, Howard Hewett, Ricky Dillard, Tye Tribett, Professor Wilbur Belton, Lonnie Hunter, James Hall & Worship and Praise, and others.
The DVD is especially interesting, as it shows the individual performers and groups filmed at sessions held in Atlanta, Jacksonville, and New York City.
Black gospel music is known for its contagious enthusiasm, and now, with Gospel Superfest TV in its tenth year, Spirit Rising and Dr. Bobby Cartwright, executive producer and founder of the Superfest, have made available this beautiful and powerful film of dazzling performances of praise and worship songs that highlight the best of this musical style.