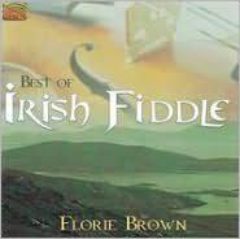 Best of Irish Fiddle
ARC Music
Brown's classical training is evident in the full, rich tone of her fiddling, her true sense of pitch, and her attention to musical subtleties. Showcasing the type of music that attracted Brown to fiddling in the first place, "the light and playful, the modal, dark, driving, the bright, and the burnin'-on-fire tunes," the album includes reels, jigs, songs of love and longing, hornpipes, airs, slip jigs, and original tunes.
Florie Brown knew from the time she was a small child that she wanted to study violin. She convinced her parents to allow her to tutor privately with Jackie Corina, then joined her local youth symphony under the direction of Eugene Stoia. The group traveled to Mexico, Germany, and Japan with it, and Brown's love of travel was born. As a teen, Brown became more and more attracted to alternative music, including rock and folk music, but Celtic fiddling was her first departure from her classical training. Her first band played music that incorporated her new loves: Celtic, bluegrass, country Cajun, blues, and swing, and provided touring, radio, and television experience.
Brown then joined forces with Margie Butler and Paul Espinoza of the Celtic group Golden Bough. Beginning in 1982, she performed with the group throughout Europe, the United States, Scandinavia, and the Caribbean. Brown has also performed with Egyptian percussionist Hassam Ramzy, Italian classical guitarist Flavio Cucci, and others. As part of the World Music Ensemble, Brown performed in England and Germany to enthusiastic audiences. After taking time off to raise a family, Brown now plays with Latin/Celtic harpist Christine Bonner and singer/songwriter Rita Hosking.