Film Review: The Sweet Requiem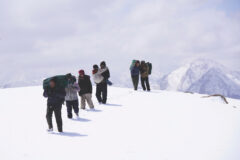 The sorrows and complexities of exile are explored touchingly in the well-acted drama The Sweet Requiem. The filmmaking team Ritu Sarin and Tenzing Sonam also made the 2005 film Dreaming Lhasa and a number of documentaries about Tibet. Their latest effort focuses on Tibetans in Delhi, India, where a confident young woman named Dolkar (Tenzin Dolker) forges on with her modern life years after losing her father during the perilous trek through the Himalayas to flee her Chinese-occupied homeland. Dolkar has occasional flashbacks to this childhood ordeal. Much of the film's narrative tension comes through these glimpses, as we learn gradually what happened so many years ago.
It all comes to a head in the present day when Dolkar takes an interest in a recent exile named Gompo, who is being hounded by Chinese security services. He, it turns out, was the guide who abandoned Dolkar and her fellow refugees. But Gompo has his own quite sad backstory, and part of The Sweet Requiem's power comes from the filmmakers' refusal to paint a black and white picture of good guys and bad guys, traitors and heroes. What they make clear—through both the movie's gripping flashbacks and its more subtle portrait of a modern-day diaspora—is that occupation, repression, and exile are experiences whose traumatic legacies persist in unperceivable yet corrosive ways. The Sweet Requiem is an admirable, sometimes surprising look at the tragedy of displacement, both the geographic and the psychological kind.
Image courtesy White Crane Films.
---
Similar articles with the same tag: