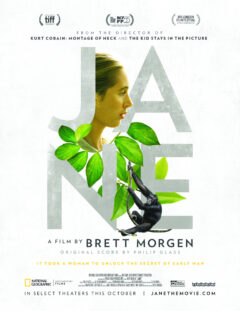 Brett Morgen's thoroughly absorbing documentary about the life and career of world-renowned primatologist Dr. Jane Goodall is founded on a treasure trove of footage—countless hours of film detailing Goodall's time among the chimpanzees of Gombe, Tanzania, shot over many years (and some of which has been featured over the years in inferior, simplistic films about her). As a result, the film is able to present us Goodall's story on two increasingly intercutting time lines. One is an almost present-tense portrait of the young British explorer landing in the wilderness and navigating her way among the primates that she would eventually make famous—discovering new details about their behavior that established even stronger connections between our species and theirs.

The second time line involves Goodall today, reflecting back on her life. This element becomes more and more prominent as the movie proceeds, as her work among these animals leads her toward love (with Hugo van Lawick, a documentary filmmaker and photographer for National Geographic) and then, as the years wear on, heartbreak (as she and Hugo start a family but then drift apart). Along the way, Goodall also acutely feels the agonies of the chimpanzees that she works with—be they disease, violence, or even emotional cruelty.
It's all edited together with a fluidity and polish rare even in the best documentary films. (The mesmerizing score by Philip Glass helps, as well.) Such surface qualities shouldn't always matter, but in this case, they help pull us further into the world of this remarkable woman. This is crucial to the effect of this picture—among the many beauties of this film is that as we watch, we grow with Goodall, and start to get some sense of the sacrifices she has made. We also begin to grasp the magnitude of her passion for her work—which continues to this day.
---
Similar articles with the same tag: