Film Review: I Am Not Your Negro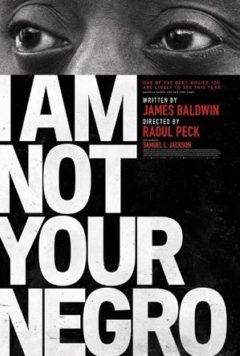 I Am Not Your Negro
Raoul Peck
Velvet Film
At the time of his death in 1987, the great novelist and essayist James Baldwin left an unfinished 30-page manuscript called Remember This House, which focused on the lives, deaths, and legacies of three civil rights figures, all of whom the writer considered friends: Malcolm X, Dr. Martin Luther King Jr., and Medgar Evers. It was a tough project, on which Baldwin toiled for years. Maybe one reason he never finished it was
that the story he was telling—that of race in America—was ongoing, ever-present, resisting anything resembling closure.
Director Raoul Peck's documentary uses both that work and others from Baldwin's career to create a mesmerizing, poetic, and devastating look at the history and the future of race relations. Samuel L. Jackson reads the writer's words on the soundtrack, in an intimate, anguished whisper, as Baldwin the man and the thinker essentially come back to life before our eyes. Baldwin understood that the issue of race was not one that merely concerned one particular group in America, or one region; it was a battle for the country's soul, and it was a battle that never seemed to end.
The film at times resembles a collage, at times an essay: We see fragments from classic Hollywood movies, newsreels, and archival footage of Baldwin himself, as well as modern-day scenes from places like Ferguson and elsewhere, all intercut in dizzying, hypnotic fashion. These words may have been written decades ago, but they echo with the full force of prophecy. Baldwin's fury and his despair come through in vivid fashion, making this film not just an important social document, but an essential work of art.
---
Similar articles with the same tag: