Film Review: Serenade for Haiti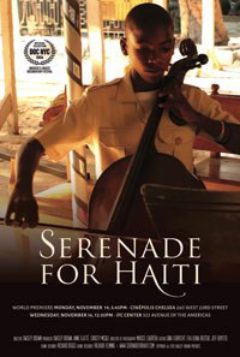 Serenade for Haiti
Owsley Brown
Owsley Brown Presents
Over the years, Sainte Trinité Music School in Port au Prince, Haiti, has served as both a critical institution of learning and a refuge from the poverty and turmoil found in that country. Owsley Brown's documentary, filmed over seven years, looks at the school, the students, its teachers, and its mission. But it does so in a very clear-eyed way: the violence and desperation of the streets and fields are never far. Offsetting that, however, is the beautiful music emanating from Sainte Trinité's halls, and the genuine inspiration its students are evidently finding there.
Brown's film encompasses the devastating 2010 earthquake in Haiti, which leveled the school and prompted a multiyear effort to rebuild it. That lends additional dramatic weight to the movie's journey: having understood the incredible importance of Sainte Trinité to this society, we watch in suspense to see how it will rise again from the ashes.
The music of Haiti, the film makes clear, is very much a mix of influences, resulting in a unique, captivating sound. (You won't "hear" another movie that sounds like this anytime soon.) And perhaps one of the strongest elements of Serenade for Haiti is the obvious love that the filmmaker has for the sights and sounds of this fascinating country. That love is infectious; it immediately crosses over to the audience.
---
Similar articles with the same tag: