Film Review: He Named Me Malala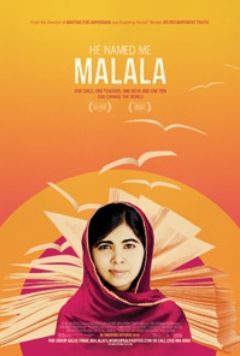 He Named Me Malala
Directed by Davis Guggenheim
Fox Searchlight Pictures
The terrifying plight of Malala Yousafzai, the teenaged Pakistani girl shot in the face by the Taliban in 2012 for daring to try to get an education, is now well known in the West. Part of the reason, of course, has been Malala herself: Her recovery and subsequent global activism on behalf of girls' education (which garnered the 2014 Nobel Peace Prize, making her the youngest person ever to win) has revealed her to be an unusually brave, articulate, inspiring young woman.
Davis Guggenheim's fairly conventional documentary benefits a great deal from Malala's central presence, even if it reveals little about her life. At its best, the film offers glimpses of Malala's new life in England—where she frets over her exams, marvels at the free-spiritedness of her classmates, and is playfully and lovingly teased by her younger brothers. The film also fascinatingly delves into the history of her father, Ziauddin, himself an advocate for education and a politically active figure in their homeland. Animated passages that depict Ziauddin's and Malala's stories are elegantly rendered, though not particularly revealing. We see much of Malala's current travels, as she visits girls' schools in Africa and elsewhere. Throughout, we get the sense that the film is trying to juggle a number of strands, and not always doing it effectively.
I do wish that Guggenheim had portrayed more of the fear and urgency of this young woman's story; what happened to her is liable to get the blood boiling, but He Named Me Malala feels so placid and even-keeled. Yet perhaps that says more about the subject than about the film itself: Malala herself is a surprisingly calm figure, a person who expresses forgiveness and thanks at every turn, and who doesn't appear to have a spiteful or vengeful bone in her body. Maybe, ultimately, this gentle documentary is less interested in the typical needs of drama and more in the patient, accepting demeanor of the remarkable young woman at its heart.
---
Similar articles with the same tag: