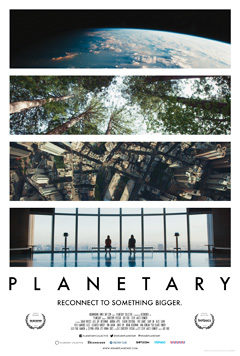 Planetary
Directed by Guy Reid
PLANETARY COLLECTIVE
Director Guy Reid's documentary fuses the highly aestheticized style of such classics like Koyaanisqatsi and Baraka—with their wordless, musically edited, spiritually resonant montages of nature, cities, and human activity—with a vast array of talking heads interviews, to create an occasionally compelling, intensely watchable hybrid. His film, adapted from his viral online short Overview, shows us everything from the immense scale of the Earth as seen from space to the wonders of animal and plant life, from the teeming bustle of our cities to the sights of ordinary people doing ordinary things. Woven throughout are insights from countless individuals—scientists, thinkers, poets, activists, teachers, designers, you name it—about the harm we're doing to our home, and the unsustainability of life as we know it. The thesis isn't novel, to be sure, but the scale is: Reid clearly hopes that the dizzying nature of what he's showing us—the immensity of the Earth and the cosmos, as well as the litany of concern about the current state of affairs—will make an impression. Documentaries about these topics are a dime a dozen, however, and one wishes the film would focus more on solutions. The good news is that Planetary is a visual treat, and, for all the alarm it raises, it's ironically one of the more watchable works of its kind.
---
Similar articles with the same tag: