Film Review: The Plot for Peace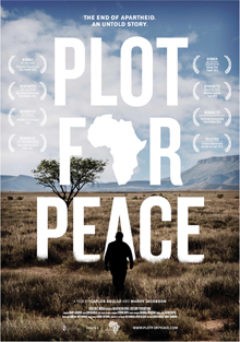 The Plot for Peace
Directed by Mandy Jacobson and Carlos Agullo
Trinity Film
Jean-Yves Olivier is not a name well known to history, but he played a critical, behind-the-scenes role in an elaborate series of developments in Africa that eventually culminated in the 1990 release of Nelson Mandela from prison in South Africa. Mandy Jacobson and Carlos Agullo's documentary has the narrative dash and verve of a political thriller,
but it also features many high-level talking heads—chief among them Olivier himself, going on the record for the first time.
The surprisingly garrulous businessman talks of his days growing up in French-occupied Algeria, and of the heartbreak his family felt when when the French provincial government was overthrown in the 1960s. That experience gave Olivier a lot of insights into the colonial mindset and into ethnic strife. When he came to Apartheid South Africa, he saw that there, too, was a system that would not last. And he also realized that he could, as a white businessman, contribute to its destruction.
At the time, Africa—the entire continent—was at the mercy of Cold War geopolitical maneuvering. Becoming more established in the business world, Olivier was able to forge connections across many different countries and political systems, and to build trust among people who violently distrusted each other. His real impact came when he helped orchestrate, behind-the-scenes, the talks that led to the end of war in Angola and to Namibian independence. That led in turn to the negotiations that allowed Mandela's release. It's a remarkable story, one very few know about. This exciting documentary reclaims this man for history, while showing us how a belief in peace and diplomacy can sometimes make the impossible real.
---
Similar articles with the same tag: