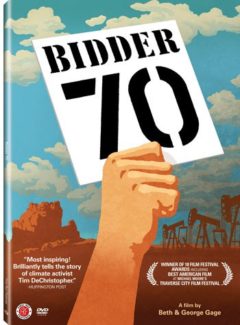 Directed by Beth Gage and George Gage
In 2008, the environmental activist Tim DeChristopher disrupted a land-rights auction for oil and gas companies by posing as a bidder and offering $1.7 million to purchase thousands of acres. Needless to say, he didn't have the money, nor did he intend to drill for oil. For this act of civil disobedience, DeChristopher was sent to prison.
The documentary film directors Beth and George Gage follow DeChristopher's story as he makes his way through the legal system, reflects on his awakening to the urgency of climate change, and dwells deeper on the notion of meaningful protest in a world where everything is hyperconnected and where corporate interests reign supreme. Ironically, as a result of the various delays around his trial, DeChristopher becomes a notable voice for the environmental movement, and the film shows him traveling across the country speaking on a range of causes—such as the movement against mountaintop-removal mining in West Virginia.
Among those interviewed in the film are such luminaries as the environmental author Bill McKibben and the actor and conservationist Robert Redford, but DeChristopher turns out to be his own most compelling defender—a charismatic personality whose genuine concern for his fellow men and women shines through. At times it seems as if the young man is improvising his activism, motivated by a desire to make a difference, frustrated by the roadblocks he meets, but fundamentally optimistic about the environmental movement. By keeping their focus on this remarkable, insightful figure, the Gages deliver a film that reflects the humanity of its subject.