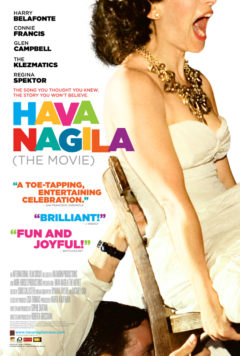 Directed by Roberta Grossman
HAVANAGILAMOVIE.COM
Everybody knows the song "Hava Nagila." But do they know the origins of this popular folk song, covered by rock stars, country stars, jazz stars, and sung at pretty much every Jewish party (and even some non-Jewish ones)? Director Roberta Grossman's engaging documentary starts off in a lighthearted vein—as she discovers that even many Jews don't know the origins or meaning of this infectious tune, now most commonly associated with brides and grooms being held up in chairs during raucous wedding celebrations. Along the way, we get insights from the likes of Harry Belafonte, Regina Spektor, and even Leonard Nimoy—not to mention more variations on the actual song than you ever thought you'd hear.
But as Grossman explores the song's history further, the film gains in power. A look at the unlikely journey of a song becomes an ennobling, occasionally troubling look at Jewish history, going back to the shtetls of Eastern Europe and the desire of an oppressed people to remain obstinate and carefree in the face of unspeakable challenges. In the song's joyous lyrics, Grossman finds something far more profound—a way of looking at the world that speaks to humanity's common ability to endure. That she manages to do so with humor, warmth, and a playful flair for the absurd is one of the central achievements of this seemingly modest but deceptively ambitious film.