Who Does She Think She Is?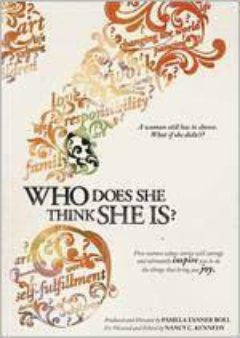 Directed by Pamela T. Boll
and Nancy C. Kennedy
Mystic Artist Film Productions
Documentary
Consider these statistics from the film: Women make up 80 percent of art school classes but only about 20 percent of working artists. From 2001 to 2004, the percentage of female artists represented in exhibitions at the Guggenheim was 11 percent and only 2 percent at the Tate Modern and the Los Angeles County Museum of Art. Only 4 percent of the works in the permanent collection of New York's Museum of Modern Art are by women. "The film is about art," says director Pamela Tanner Boll, "but it's really about the struggle that women are still in — to pay attention to their own cares, their own work, without being pulled into someone else's orbit, without feeling or being called selfish."
In a 2008 interview in Women and Hollywood, Boll shared the genesis of her film. She had turned her back on her own writing and drawing, saying, "I was terrified of becoming a bag lady — unable to support myself," and "This was the '80s, and women were supposed to have 'serious' careers." So she became a Wall Street commodities trader. "Then I had a baby and the unending love and huge terror I felt for him plunged me back into writing — the only way I had ever been able to make sense of my experience and to mark the moments of my life." Writing and painting were done, she said, "in the cracks of my life. And I felt guilty, torn, never in the right place. . . so I set out to see how other women had handled this."
Boll's film explores the lives of five professional artists: women with children and relationships, as well as passion for their art, and it asks, "Is it possible to be both a mother and a working artist?" Together with intimate glimpses into their daily lives, including the sometimes heartrending self-questioning, injustice, and economic stresses they experience, we also share their luminous joy as they create.