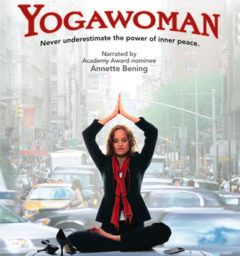 Saraswati Clere and Kate Clere McIntyre's documentary marvels at the way that yoga has gone from being a male-dominated practice to a phenomenon among women. (When it originated in India, it was strictly men-only, and for much of its modern history it was taught by men.) Today, most yoga practitioners are women, and the film dutifully follows some whose lives were transformed by it—helping them beat addiction, depression, even cancer. In so doing, the filmmakers also make a solid case for the unique benefits to women of yoga, especially in a hectic and judgmental modern world where body image issues, stress, and health problems are practically a way of life.
That's the good news. The bad news is that the film, in tackling so much, can't help but gloss over most of it. The women interviewed are articulate and interesting, but one can't help but wonder what might have resulted if the filmmakers had opted to instead focus on just one of these subjects. Additionally, the film fails to provide much context: it does make the point that the world of yoga is very broad today but doesn't really get into how and why.
That said, the filmmakers do deserve some credit for exploring one of the more intriguing aspects of the modern yoga movement.