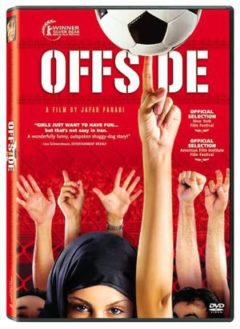 Directed by Jafar Panahi
Sony Pictures Home Entertainment
In Farsi with English subtitles
Running time 1 hour 28 minutes
The Tehran soccer stadium and the 2005 game in which Iran faced Bahrain in a qualifying match for the World Cup are out of bounds for Iranian women. A frantic father, sure that his daughter is among the ardent female soccer fans who have disguised themselves as boys to sneak in to see the game — and equally sure that she will be arrested and subjected to all manner of evil if she is caught — seeks her in the crowds arriving at the stadium.
The film poignantly reveals the frustrations caused by rules that must be enforced at all costs, even when none of the people involved can see any real sense in them. The women are caught and placed in a holding pen, out of sight of the game (which is never seen on screen). They can only ascertain its progress by the roars or groans of the crowd until a policeman is cajoled into reporting the play-by-play to them. Although the women and the soldiers are, in a sense, adversaries, their love for the game, their innate decency, and their overriding sense of national pride and shared humanity triumph in small and surprising ways.
The danger involved in flouting the rules is real, however. According to an article in the New York Times, Mr. Panahi, known for making films that highlight the inequities of Iranian society, was refused official permission to shoot the film. Offside won the Silver Bear at the Berlin International Film Festival in 2006 and was in the official selection for the 2006 New York and Toronto Film Festivals. Rated PG for language.