Book Review: Travel Light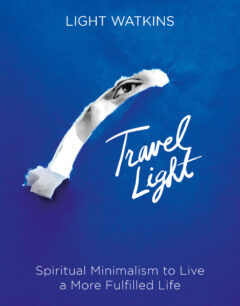 Meditation teacher Light Watkins' new book Travel Light is no repeat of the self-help books we've seen on simple living and minimalism over the past 25 years. None of the seven principles offered in this book tell you to get rid of unnecessary stuff. The focus isn't on what to walk away from but what to walk into.
Watkins defines a spiritual minimalist as"someone who relishes the process of living life while allowing the outcome to be whatever it is," and offers "principles" of spiritual minimalism versus "precepts," encouraging us to connect with our true selves instead of just getting rid of possessions. He invites each of us as readers to find our own unique version of spiritual minimalism. Watkins' version is to live as a nomad; all of his material possessions fit into his "carry-on apartment"—a daypack with about 30 items.
Watkins' advice on how to discover your own version of spiritual minimalism is to go from the inside out rather than taking the conventional outside-in approach. This means listening to what your "heart voice" is telling you. According to Watkins, the best way to hear your "heart voice" is to meditate. Meditation, he says, needs to be practiced every day. "No days off. No holidays, birthdays, or weekends away from meditation."
After reading Travel Light, you may or may not decide to set out on a nomadic adventure. What you will be inspired to do is to live with more clarity and purpose, on a journey unique to you. Watkins' own journey is one testimonial to how this works. His proven success as a meditation and spiritual teacher for over 20 years indicates that what he has to offer can be taken seriously as a guide to a more fulfilling life.
---
Similar articles with the same tag: