Book Review: Around the World in 80 Spiritual Places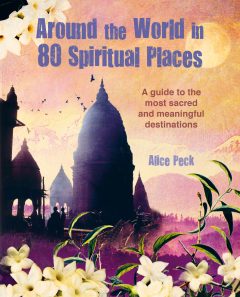 Defining spiritual places is the first order of business, a task made joyful by the abundance of landscapes, locales, buildings, and sites to choose from. A highlight of the book's definition derives from author T.C. McLuhan's notion of sacred places as "landscapes of the holy ... centers of inspiration where human consciousness is temporarily set free." Alice Peck's research is drawn from historical and contemporary writings, sacred texts from around the world, and insights of friends, editors, and teachers. It is a delightful feat of insight, aesthetics, and dogged research.
"Spiritual" does not need to mean religious or even denominational, and each of the 80 locations chosen are deemed "universal or at least universally relatable." A risk of this approach is side stepping or appropriating what is held sacred by world religions, but Peck makes an admirable effort to acknowledge this along the way.
Around the World is the ultimate armchair guide for the spiritual seeker. Lush photographs give this book the feel of a travel magazine, but instead of minimalist hotels or vibey cafes, we get Delphi, forest bathing, and Saharan nomads. Peck includes meditations, prayers, practices, or contemplative words for readers to have an inroad even if they cannot travel.
Peck writes: "No matter where we go ... we can be on a spiritual journey. My wish is that this book gives you ... a forgotten window to look through, a moment of awe and hope, a new path to voyage through the adventure that is your life." In short, what every spiritual seeker craves.

---
Similar articles with the same tag: