Book Review: The Shamanic Bones of Zen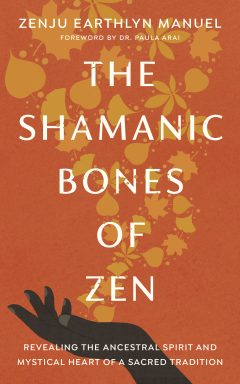 THE SHAMANIC BONES OF ZEN by Zenju Earthlyn Manuel is a deep exploration of the indigenous and mystical roots of Zen Buddhism, aspects that became hidden or lost as Zen spread worldwide. Zenju's study joins a rising call across disciplines—spirituality, social change, and science—to unravel oppression and cultivate earth-based practices that enhance compassion and awareness.
Zenju is a Soto Zen priest who was shuso (head student) at the San Francisco Zen Center. In The Shamanic Bones of Zen, she asks us to "consider the indigenous beginnings of all cultures," and offers: "There are underlying esoteric, mystical, or shamanic histories to all spiritualities and religions."
Zenju writes, "I wondered: if the shamanic bones or indigenous roots that were suppressed in the rising of Buddhism were unearthed, would the practice make more sense to practitioners, especially to black, indigenous, and people of color?"
Want more? Read our interview with Zenju Earthlyn Manuel.
---
Similar articles with the same tag: