Book Review: Even Though I Walk: One Woman's Journey of Prayer in the Shadow of Death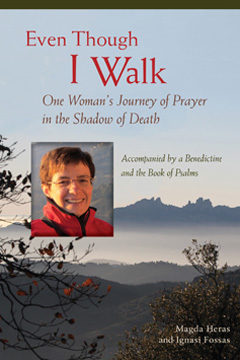 In the eleventh hour of her life due to a cancer diagnosis, renowned scientist and cardiologist Magda Heras began a reflective correspondence with Ignasi Fossas, a Benedictine monk and prior of the Montserrat monastery in Catalonia. Using the Psalms as a framework, the two Catalonian acquaintances conversed on both the profound and the mundane aspects of life, prayer, and faith. Coupled with humor and humility, Even Though I Walk brims with theological and spiritual observations and reflections throughout their email correspondence.
Absent of self-depreciation, Magda's earnest questions and astute observations show that the mysteries of life never cease to be a source for pondering, and that great meaning can be found in the midst of our own suffering. As her spiritual advisor, Ignasi's humility and gentility in his responses to her queries highlight his patient yet thoughtful nature. Translated from Catalan to English, the book contains descriptive footnotes to help readers better clarify and grasp the true essence of their communication.
Although grappling with death and our own mortality can be incredibly challenging, Even Though I Walk provides an uplifting look at a person's approach to her final days. Seeing how the Holy Spirit works in even the darkest of moments of Magda's life is illuminating and uplifting. Gabriel Magalhaes explains in the prologue that Magda's words express that "we are not abandoning it (life) but moving toward the other side of it, toward the most intensely vivid dimension of the same life." Indeed, the candid dialogue between the monk and the doctor demonstrates that even though we all must walk through the valley of the shadow of death, we never have to walk it alone.