Book Review: What Does it Feel Like to Die?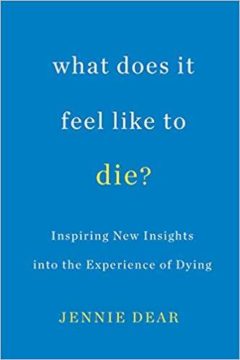 "Maybe if we thought of dying as the last stage of life rather than merely an ending, we'd be more likely to see it as organic to human development," writes author Jennie Dear in What Does It Feel Like to Die? Inspiring New Insights into the Experiences of Dying. Through extensive research with doctors, nurses, psychologists and other experts as well as her own observations and experiences with her mother's death and as a hospice volunteer, Dear's exploration into dying seeks to do just that: demystify and illuminate the organic nature of death and dying.
A former journalist and associate professor of English, Dear's comprehensive account analyzes the various trajectories that dying can take—from terminal illness to sudden death—and examines the physical, spiritual, and emotional process that occurs when we die. The book details specifics regarding medical aid in dying as well as the progression involved for people who wish to hasten their own death. Providing insight for caregivers and those struggling with their own impending deaths, the author also proposes new approaches to helping dying people cope, from dealing with logistical realities as well as providing emotional support and pain management.
Thorough, factual, and surprisingly hopeful, What Does it Feel Like to Die? offers wisdom into the process that will one day be unavoidable for ourselves and our loved ones. Informing readers of the options one has with regards to dying leaves them better able to grapple with what lies ahead. Considering their place of death to their final conversations and moments, the book more clearly enlightens readers with what to expect throughout the entire stage—one that can be peaceful and even beautiful if they understand the natural and inevitable process.