Book Review: The Wisdom of Anxiety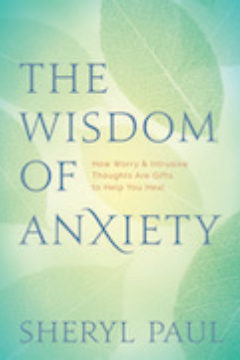 According to the World Health Organization, 260 million people worldwide suffer from anxiety, and those are just the ones with a diagnosis. Sheryl Paul takes that "feeling of dread, agitation, or foreboding associated with a danger that does not exist in the present moment," holds it up to the light, and depathologizes it. Though commonly labeled a disorder, anxiety, for Paul, is simply evidence of the imagination and an invitation to wholeness. She shares tools and mindsets that allow us to approach anxiety with curiosity instead of shame, so that we may decode its messages, wherever they surface. And chances are, they're surfacing everywhere—in our dreams, intrusive thoughts, relationships, and through life's transitions.

A few of the practices she offers include going on a "media diet," journaling (she gives prompts), and abandoning the word should. In our culture, we've been taught to believe that "doubt means don't," but questioning our attraction to our partners or whether we're living in the right city doesn't automatically mean that we're with the wrong person or should move. In fact, we often use anxiety as a prophylactic against entering into a more meaningful relationship with things as they are.
After identifying the cultural messages that help create anxiety and the most common roadblocks to healing it, Paul demonstrates how grief, longing, and boredom also contribute. Her take on relationships is particularly helpful, especially when she's challenging widespread beliefs with assertions such as "love is not the absence of fear."
Paul has a master's degree in counseling from Pacifica Graduate Institute, and she credits both Carl Jung and Pema Chödrön as major influences on her thinking. The overall effect of Paul's book, which is laced with brief glimpses into her own journey, is like that of taking a long, deep breath. The idea that the "pervasive sense of dis-ease without an identified source" that we all experience is actually an invitation into the center of our lives is heartening, to say the least.