Book Review: The Language of Kindness
A Nurse's Story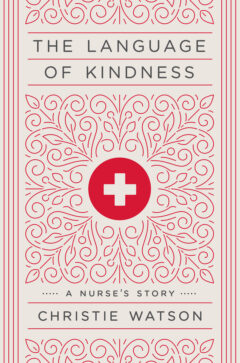 AFTER FINISHING this book, I had to grab my daughter and hold her tight, tears running down my face. The Language of Kindness is an intense read, the story of a lost young woman who stumbles into a career. British novelist Christie Watson won international acclaim for her books Tiny Sunbirds Far Away and Where Women Are Kings. But before becoming a full-time writer, she was a registered nurse for 20 years.
"Nursing people means doing for them what they would normally do, when they have no will to do it, until they have the will to do it," Watson writes. It is far more than that, of course. In her memoir, she explores this healing art via her own journey and maturation, from a struggling teenage novice to a skilled and confident RN making life-or-death decisions. Throughout, she witnesses some of life's more profound truths and has to develop coping skills. Much of the book is about caring for very sick and dying children, and, even encountered secondhand, these are gut-wrenching stories. Yet there's also a sense of beauty, and the unfathomable. "Birth holds the hand of death," another nurse tells an awestruck Watson, after she witnessed a patient delivering a baby. "We begin and we end at the same time."
There's been much discussion of health care, yet the vital role of nursing is seldom part of the conversation. This book is a timely reminder that in addition to the ever- increasing demands on nurses as medical professionals, they also have "soul skills": dignity, peace, compassion, humanity. After reading this book, you'll feel there is no more awe-inspiring display of kindness than to be a nurse.
---
Similar articles with the same tag: