Book Review: The Grace in Living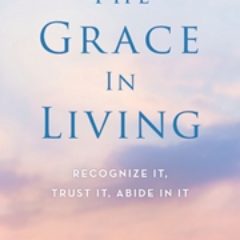 The Grace in Living
Recognize It, Trust It, Abide in It
By Kathleen Dowling Singh
Wisdom Publications
Kathleen Dowling Singh is a Dharma practitioner and respected author who's written about the final stages of life in her earlier work, The Grace in Dying: How We Are Transformed Spiritually as We Die, and also teaches about spiritual transformation as a part of the aging process.
In her latest, The Grace in Living: Recognize It, Trust It, Abide in It, Singh offers an intriguing how-to on a contemplative exercise: spiritual biography. It has its roots in namtars, a practice used centuries ago in Tibet, and writing one offers us a vantage point from the middle of our life's journey—it's a way to see and acknowledge the times we have already brushed against grace. Otherwise, "Within our foggy confusion, clear and grateful recognition that we are already awakening beings is utterly precluded. … We're unaware that, from the clear perspective of grace, we're already 'preapproved,' 'prequalified,' and have been since beginningless time," Singh writes. "We mystify awakening as though it were a thing, existing somewhere other than here, at some time other than now, for someone other than ourselves."
She instructs us how to write a spiritual biography, but does so gently, guiding via examples from prominent teachers and authors who have contributed their own stories. These recollections not only show us the structure of a spiritual biography, but make insightful reading as well.
"We could look at our lives in dozens of ways," Singh notes; a spiritual biography removes some of our filters so we can be more aware of the radiance in our lives. Three things will emerge, she notes: "our essential nature, the ever-presence of the sacred, and the transformative movement that allows our imagined separation from the sacred to dissolve." Indeed, it's a liberating shift.
---
Similar articles with the same tag: