Book Review: Emotional Rescue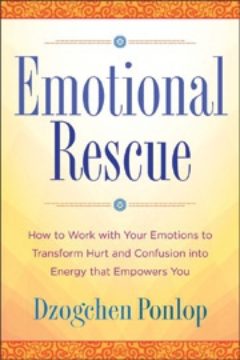 Emotional Rescue
How to Work with Your Emotions to Transform Hurt and Confusion into Energy that Empowers You
By Dzogchen Ponlop Rinpoche
TARCHER/PENGUIN
"Emotions get their power from a simple but deep-seated source: our lack of self-knowledge," Dzogchen Ponlop Rinpoche writes in his instructive new book, Emotional Rescue. "For this reason, when we bring awareness to our experience of emotions, something truly amazing happens. They lose their power to make us miserable."
To help readers become more aware of their emotions, Dzogchen Ponlop Rinpoche outlines a "Three-Step Emotional Rescue Plan." The first step, Mindful Gap, is using mindfulness to create a space between your emotions and your reactions to them. The second step, Clear Seeing, involves identifying patterns in your behavior in order to see the bigger picture. The third step, Letting Go, is the practice of releasing the stressful aspects of our emotional lives. When we engage with our emotions in this way, he suggests, we might find that they can help us access freedom and energy.
"At heart, your emotional energies are a limitless source or creative power and intelligence that's 'on' all the time—like the electrical current we put to so many uses," he writes. "When you finally see straight to the heart of your emotions, this power source is what you see."
As he did in his previous book, Rebel Buddha, Dzogchen Ponlop Rinpoche presents some of the more esoteric aspects of tantra and Tibetan Buddhism in fresh and accessible language. In the shorter second part of the book, he explores some of the Buddhist roots behind his "Three-Step Emotional Rescue Plan." There are practices for working with emotions throughout the book.
---
Similar articles with the same tag: