Book Review: The Disease Delusion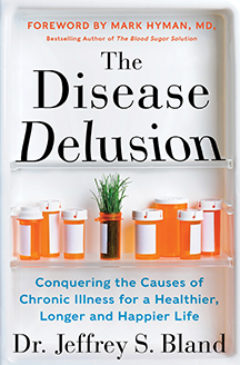 The Disease Delusion
Conquering the Causes of Chronic Illness
for a Healthier, Longer, and Happier Life
By Jeffrey S. Bland
HarperWave
Somewhere between salt cave therapy and prescription drugs is a middle way, one where hard science and natural remedies meet.
And it seems that Jeffrey Bland has found it.
A biochemist and nutritional medicine guru, Bland helped found Bastyr University—the first accredited university in the United States with degrees in natural medicine—and has authored more than 120 peer-reviewed studies and six books. His latest, The Disease Delusion, takes readers on an enlightening and at times shocking journey of medical discovery. Consider this tidbit: The majority of prescription drugs work on fewer than half of the people who take them.
Bland describes the human body as a holistic system, one that requires personalized care in order to function fully. He organizes the system according to seven physiological processes: assimilation and elimination, detoxification, defense, cellular communications, cellular transport, energy, and structure. Covering each process in a separate chapter, Bland also provides a list of questions to help with self-diagnosis (Do you have bad breath? Are headaches a common occurrence? Are you sensitive to fragrances and odors?), which personalize his advice.
After answering the questions, I came to the conclusion that I had issues in all seven areas and was one step away from a tombstone, which brings me to my one criticism of the book. While The Disease Delusion excels at helping readers understand what's really behind their health woes, the book is light on what to do about it. For instance, Bland explains how sulfur-rich foods such as onions, garlic, and asparagus help detoxify the body, and he notes that the consumption of white button mushrooms boosts immunity, but he leaves us wondering how often we should eat such foods and in what amounts.