Book Review: Sacred Sound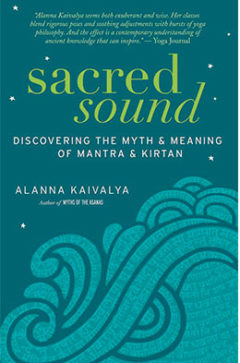 Sacred Sound
Discovering the Myth and Meaning of Mantra and Kirtan
By Alanna Kaivalya
New World Library
Renowned yoga instructor Alanna Kaivalya displays a playful, unpretentious writing style in Sacred Sound, the follow-up to her 2010 book Myths of the Asanas. Using familiar western tales like Star Wars and The Matrix as reference points, she presents easy-to-follow explanations of the meanings and myths behind several chants commonly used in kirtan and solo yoga practice.
Kaivalya, who is pursuing a PhD in mythology, views the Vedic myths as metaphors that can help remind us of our own divinity. "All manifestations of yogic mythology are simply reflections of one numinous source, and they provide endless avenues by which we can discover that source within ourselves," she writes.
While she stresses that there is no wrong way to do mantra or kirtan, Kaivalya offers practical advice on how to milk each of Sacred Sound's chants for maximum benefit. In the process, she sheds light on the roles these mantras can play in one's daily life ("Because this chant calls to our inner king (or queen), this is a great chant for when we need a little extra 'oomph' or power to be brave and overcome a challenge").
Born with a hearing impairment that has honed her awareness of sound vibration, Kaivalya frequently ends her lectures and workshops by saying, "Don't miss the vibrations." This serves as a helpful reminder that a mantra's meaning is secondary to its sound, which, in the author's words, empowers us "to realize the harmony that is quite literally waiting to be recalibrated within us and to reconnect with the symphony of hearts that occupy a room of people chanting together."