For a Song and a Hundred Songs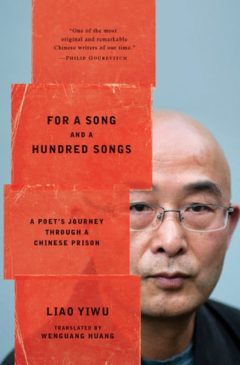 A Poet's Journey through a Chinese Prison
By Liao Yiwu
New Harvest
Long before he was imprisoned for writing and distributing a poem condemning the bloody government crackdown in Tiananmen Square in 1989, the Chinese poet Liao Yiwu was used to fighting for survival. His memoir begins with his early childhood, when he suffered from severe malnutrition. After high school, Liao left the Sichuan capital of Chengdu and traveled the country, taking odd jobs and writing poetry. He read banned poets such as Keats and Baudelaire and published Western-style poems condemned by the government as "spiritual pollution."
For a Song and a Hundred Songs is an account of Liao Yiwu's four years in prison, but an undercurrent carries the reader through it; this is not just a man, but a soul, struggling to survive physical and emotional torture. It's also a fascinating study of the hierarchy that existed in each prison cell. Crammed with dozens of men, the cells were microcosms of China's political system, where a small upper class ruled via abuse and intimidation.
Upon his release from prison, Liao's wife divorced him. His four-year-old daughter was terrified of him. The first time he saw her, he says, "I grinned and then adjusted my countenance, hoping to form a kind, fatherly smile, but I couldn't. My facial muscles hurt, and I concluded with rue that I was not made for such feelings."
Publishing this book, which was confiscated by the government several times before completion, was Liao's way of finding dignity in a world that had taken everything from him.
---
Similar articles with the same tag: