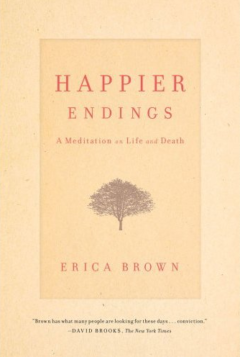 A Meditation on Life and Death
By Erica Brown
SIMON & SCHUSTER
With sensitivity, humor, and unflinching honesty, writer and educator Erica Brown explores how fear and denial of death can diminish quality of life for the dying and those they leave behind. In Happier Endings, Brown poses a probing question: If we know death is certain, then why do so many of us live as though dying is for other people?
Brown writes from a place of empathy and inquiry, and her philosophical musings on the transformative power of forgiveness, the importance of last words, and the significance of "ethical wills" are anchored in poignant anecdotes and interviews with mourners. Through these highly intimate accounts, readers learn what it means to have a better death.
Brown strings together pearls of wisdom from ancient rabbis, healers, and the Dalai Lama, but the parts that really bring our mortality into sharp relief are those when she's down in the trenches of death and grief, performing tahara, the ritual preparation of a woman's body for a Jewish funeral, or reflecting on her own devastation after a cousin's sudden death. There's also a compelling meditation on the "Ecclesiastes/Epicurus debate": is life better spent indulging in pleasures or pursuing wisdom?
Brown captures the isolating netherworld of loss and grief, but Happier Endings is anything but maudlin. It is at times emotionally eviscerating but ultimately inspiring, as it expounds upon a simple truth: no one knows what tomorrow will bring.
---
Similar articles with the same tag: