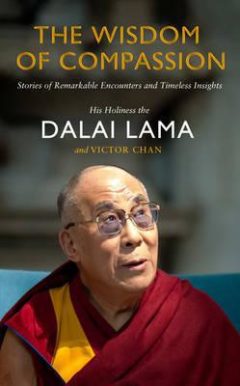 Stories of Remarkable Encounters and Timeless Insights
By His Holiness the Dalai Lama and Victor Chan
Riverhead Books
It's well known that the Dalai Lama loves to laugh. His joint public appearances with South African Archbishop Desmond Tutu sometimes turn into gigglefests, as the Nobel laureates warmly acknowledge one another as fellow spiritual mischief-makers.
These playful asides help humanize the adoring portrait of the 14th Dalai Lama that emerges from The Wisdom of Compassion. Although Tibet's exiled spiritual and political leader is credited as the book's author, it's Victor Chan—his longtime collaborator and founder of the Dalai Lama Center for Peace and Education in Vancouver, British Columbia—who actually writes these "Stories of Remarkable Encounters and Timeless Insights."
Unlike the best-selling The Art of Happiness, the world-renowned spiritual leader is captured third-person here, in settings from visionary conferences to heartbreaking wards in children's hospitals. This format retains the distinctive lilt of his voice—"someone who can't even speak English properly," jokes Tutu. But the book also turns the Dalai Lama's teachings into a real-world action plan, from scientifically measuring meditation's effect on brain waves to training illiterate African grandmothers to become solar engineers lighting up their villages.
The stories show the impact of this "simple monk" on philanthropists, entrepreneurs, physicians, scientists, philosophers, and celebrities. Chan's writing conveys the palpable effect of being in the presence of this unique man whose life is the best demonstration of his teachings. Observing the effect it has on others provides ample illustrations of His Holiness in action.
---
Similar articles with the same tag: