The Healing Power of Breath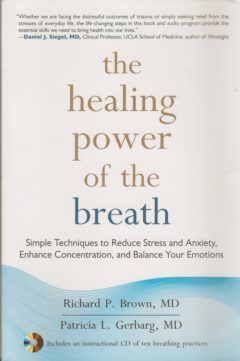 by Richard P. Brown and Patricia L. Gerbarg
Richard P. Brown and Patricia L. Gerbarg, both MDs and teaching psychiatrists, weave contemporary science together with ancient wisdom to show how breath practices can prevent and counteract the progression of disease, improve our overall health and quality of life, and combined with self-reflection, "unlock the metal casing around the heart, enabling reconnection with loving feelings and positive emotions within ourselves and in our relationships."
Their book, accompanied by a practice CD enhanced with gentle chime sounds by Stephen Elliot, presents breath practices that the authors have found to be easy to learn, safe, and rapidly effective. Enlivened by stories of real people who have benefited from breath practices―including athletes and musicians seeking peak performance and reduced anxiety, students needing improved concentration, and people suffering from the ravages of post-traumatic stress disorder (PTSD), sexual trauma, and the after-effects of mass disasters―it shows how even lifelong symptoms can be improved or eliminated with regular, cost-effective, and drug-free breathing practices.
"Breathing practices have the power to restore a healthy balance in the stress-response system, to unlock the grip of trauma on the mind and emotions, to create the conditions necessary for healing from the many effects of trauma," according to the authors. "As this healing occurs, we rediscover our true selves and the capacity for love and bonding that are essential to our relationships."
Brown has studied martial arts for many years and is an associate clinical professor of psychiatry at Columbia College of Physicians and Surgeons. Gerbarg is an assistant clinical professor of psychiatry at New York Medical College. They are the authors of Non-Drug Treatments for ADHD: New Options for Kids, Adults, and Clinicians and How to Use Herbs, Nutrients, and Yoga in Mental Health Care.