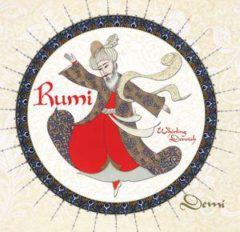 Whirling Dervish
Text and Illustrations by Demi
Marshall Cavendish, 2009, $19.99
Turkish and Chinese inks with gold overlay fill Demi's joyful children's book about the man many consider to be the world's greatest mystical poet, Jalaluddin Rumi. The year 2007 was the 800th anniversary of his birth and was declared the "Year of Rumi" by the United Nations.
Born in Asia Minor in 1207, Rumi was an educated but simple man who became a preacher in a small Turkish mosque. His encounter with a mysterious holy man, known as "Shams," awakened him to the voice of God within, and he began to recite more than 50,000 beautiful, rhymed couplets on God and the love that unites us all, regardless of our background or tradition. Rumi is also known as the founder of the order of the Whirling Dervishes, in which dancers rapidly spin around and around, believing that their ecstatic trance-producing dance will bring them closer to God and bring peace to the world.
Although Demi's lively book is described as being for children from 9 to 12, it will be enjoyed by readers of all ages; adults will take delight in her exquisite drawings, each one a treasure of vibrant color, subtle and sensitive line, and intricate detail.
Demi studied art at the Instituto Allende in Mexico, as well as with Sister Corita at Immaculate Heart College in Los Angeles, at the MS University in India on a Fulbright scholarship, and at the China Institute for Arts in New York City. She is the author and illustrator of over 100 well-loved children's books and picture-book biographies and has received many awards, including the Christopher Award and the Middle East Book Award. Her works have been designated Notable Children's Books by the American Library Association and other prestigious organizations.