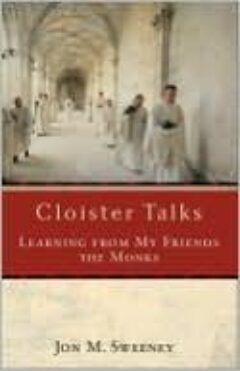 Learning from My Friends the Monks
By Jon M. Sweeney
Brazos Press, 2009, $12.99
"I sit down with Father Ambrose to talk about love, to ask him about love. He rubs his hands together as if he is about to eat a luscious piece of cake. 'You don't always feel it, Jon,' he begins. 'Those times when you do are precious. They are precious and marvelous . . .'"
Jon M. Sweeney, a married man and a Protestant, felt himself drawn to the deep spirituality of monastic life and wondered why his own daily life did not reflect what he so loved and admired in the lives of the monks. His answer was that although monastic practice can be duplicated even in the busiest, noisiest, most urban of environments, "without brothers doing likewise, my spirit fades after a while." It was the brotherhood of the monks — their humble dependence upon each other and their love for God and for each other — that made their practice possible.
Sweeney did not shy away from asking hard questions of the Benedictine, Cistercian, and Trappist monks he befriended in various monasteries across the country. Life, death, love, and the state of the world and of the individual heart all were addressed as he sought to make sense of the turbulence of his own life by trying to understand the peace he saw in theirs.
The author learned that monastic spirituality, rather than being an escape from the world, is a beacon to those who would know God and themselves better — a place where flawed people learn the value of silence, devotion, discipline, and peaceful cooperation. In the end, it all comes down to love, for as elderly Father Ambrose remarked, "This is the only real Christian truth: it doesn't make a whole lot of sense, but it's love all the way down."
Jon Sweeney is associate publisher at Paraclete Press, a frequent guest speaker for groups of all denominations, and the author of award-winning books, including Born Again and Again, which won an Award of Merit from Christianity Today; and Light in the Dark Ages, a History Book Club and Book-of-the-Month Club selection.