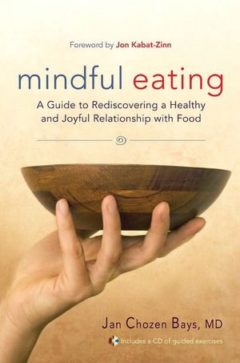 A Guide to Rediscovering a Healthy and Joyful Relationship to Food
(includes a CD of guided mindful eating exercises)
By Jan Chozen Bays, M.D.
Shambhala, 2009, $16.95
The Zen tradition of mindfulness, or "the art of paying full, nonjudgmental attention to our moment-to-moment experience," addresses eating disorders at their source by transforming our relationship with food and teaching us how to satisfy feelings that we often mistakenly interpret as a need to eat.
As with any skill, learning to eat mindfully will take practice and time, but Dr. Chozen Bays explains that it will bring immediate and lasting rewards. Through her book and the accompanying CD, the author offers hope that "[w]hen we learn to eat mindfully, our eating can be transformed from a source of suffering to a source of renewal, self-understanding, and delight."
Dr. Jan Chozen Bays is a pediatrician and meditation teacher and has taught mindfulness training for over 20 years. She is on staff at Legacy Children's Hospital in Portland, Oregon, and is the co-abbot of the Great Vow Zen Monastery in Clatskanie, Oregon.