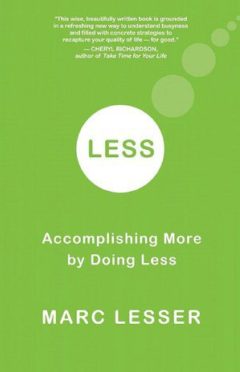 Accomplishing More by Doing Less
By Marc Lesser
New World Library, $14.95
At the age of twenty-two, Marc Lesser took a year-long leave of absence from Rutgers University that turned into a nearly ten-year-long stay at the San Francisco Zen Center. There, one of his teachers asked him, "Do you want to know the three most important tasks of a human being?" In reply to Lesser's affirmative response, the teacher told him that quieting the busyness in the mind, finding his own song, and then singing that song were the tasks that matter most in a lifetime. In his "less manifesto," Lesser explains how opening the doors of our minds to the sacredness of all of life allows us to access our "deep power" and our "fierce and tender heart" to engage the circumstances and tasks of our lives effectively and with great personal satisfaction.
Lesser identifies five self-defeating habits that complicate our lives, rob us of our time, and create the type of stress that causes illness and broken relationships. By dealing with our fears, refusing to make assumptions, cutting down on unnecessary distractions, recognizing and handling resistance, and learning that "busyness" — a sometimes frantic drive toward an outcome — is never as effective as getting down to "business" by engaging our calm and connected center, the author shows how "what looks like slowing down may in fact get us to a far more effective outcome."
Marc Lesser is the founder of ZBA Associates, a coaching, consulting, and facilitation services company. He is a Zen teacher in the lineage of Suzuki Roshi and served as director of Tassajara Zen Mountain Center. He lectures and teaches for corporate and Zen clients.